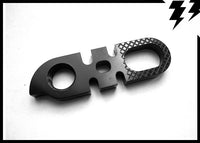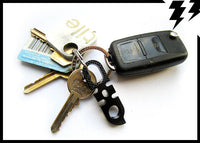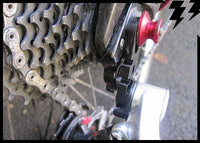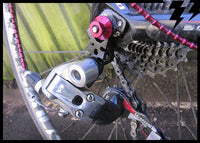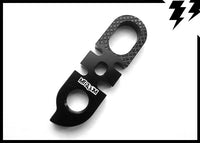 "HANDY" EMERGENCY HANGER TOOL
Description
Features
Set-up Tips
Shipping & VAT
Description
The MT ZOOM emergency hanger is a ride saver if you snap or badly twist your hanger.  It's handy to have and also includes spoke keys and a valve core remover. 
– Universal, use across your bikes (and fellow riders) for use with skewers (note this won't work with thru axles).
– Incorporates 4 spoke keys & valve core remover/tightener.
– Essential spare for your saddle bag.
– Only 7 grams.
– A lot cheaper the buying a duplicate of your hanger, which you may never need.
Rear derailleur hangers are often made deliberately quite weak, so if you do foul your derailleur the hanger will snap before damage is done to the frame. Rather than walk home, pay for taxi or destroy your chain & a cog (by making your bike singlespeed) use this universal emergency hanger.
Specifications / Features
Will work on bikes which use QR skewers
Incorporates 4 spoke keys & valve core remover/tightener.
Set-up / Tips
Simply …
1. Remove the broken bit from your derailleur (hopefully you'll have a multitool to do this).
2. Screw the MT ZOOM handy hanger onto the rear derailleur/mech.
3. Undo your skewer bolt, feed onto your skewer & clamp the hanger tight with the derailleur on the normal position. The MT ZOOM logo should be on the outside – this means you've got the hanger pointing the correct way.
4. Note you may be able leave the top bit of the hanger in your frame if you have enough thread on your skewer to grab enough of the MT ZOOM hanger.
It's easy & common sense when you do it.
We tape one of these to our bikes & also use as a key fob.
Shipping & VAT
SHIPPING
Items are posted from the UK.
Standard UK DELIVERY in is FREE.
International postage cost is quite low as our products are light, and can be seen at the checkout.
Some international destinations may have an additional tracking charge.
Feel free to get in contact regarding shipping / customs requests.
VAT
The price shown for customers outside the UK does not include the 20% UK sales tax - bonus!
PAYMENT
You can securely pay via Paypal, Amazon Pay  or standard Credit/Debit card options.
We take payment in £GBP but have added a currency conversion app on the product page for 6 other major currencies for a conversion reference.
We can accept payment in Euro, USD & Aus $ via a Paypal invoice, and Bank transfer in Euro & £GBP, however you will have to contact us on info@mtzoom.com.
If you have any payment problems/questions please get in contact.