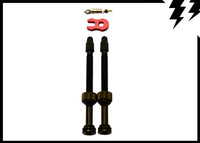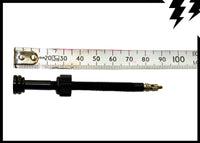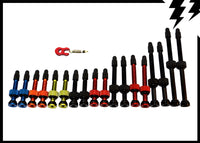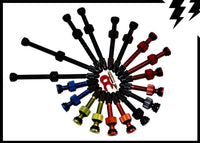 Tubeless Valves - 90mm extra long
Description
Features
Set-up Tips
Shipping & VAT
Description
Mt Zoom ultralight superior tubeless valves at a great price. Extra long 90mm version for deeper rims. Good for 55mm rims. Comes with FREE valve core remover and spare valve core.  Large outer compression nut is designed to be more easily tightened/untightened. Lightweight at 7g per valve.  Sold in pairs. Available in black.
Specifications / Features
– The outer nut/washer is extra large & more easily tightened/untightened and compresses hard to eliminate air loss.
– An O-ring fits within a recessed nut on the outer side of the rim means there is a very tight seal on the rim to eliminate annoying air leaks from the rim valve hole.
– Valves have a large internal diameter which enables sealant to injected and the tubeless tyre system to be more easily inflated.
– The value core is removable of course (we supply an additional valve core in case one gets gunked up over time).
– Made from robust ultralight 7065 Aluminium – 16 grams for the pair, 8 grams each (lighter than traditional brass valves).
– 90mm from base of the valve to the top of the valve core. (Note we also have 50mm, 70mm and 110mm length valves).
Set-up / Tips
Note, when you set up the valve make sure the o-ring on the external side of the rim is in the shallow side of the compression nut!
It is helpful to drop a little oil/WD40 etc on the nut, so as to make it super easy to compress & remove.
Shipping & VAT
SHIPPING
Items are posted from the UK.
Standard UK DELIVERY in is FREE.
International postage cost is quite low as our products are light, and can be seen at the checkout.
Some international destinations may have an additional tracking charge.
Feel free to get in contact regarding shipping / customs requests.
VAT
The price shown for customers outside the UK does not include the 20% UK sales tax - bonus!
PAYMENT
You can securely pay via Paypal, Amazon Pay  or standard Credit/Debit card options.
We take payment in £GBP but have added a currency conversion app on the product page for 6 other major currencies for a conversion reference.
We can accept payment in Euro, USD & Aus $ via a Paypal invoice, and Bank transfer in Euro & £GBP, however you will have to contact us on info@mtzoom.com.
If you have any payment problems/questions please get in contact.