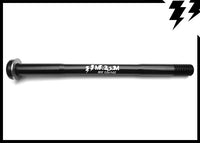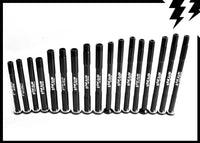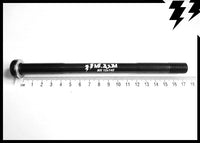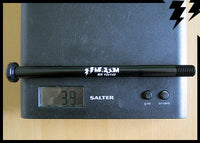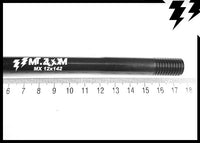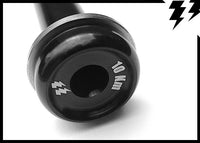 MAXLE REAR THRU AXLE 12mm X 142mm(axle)/L. 172.5mm X 1.75MM 39G (T8)
Description
Features
Set-up Tips
Shipping & VAT
Description
The MT ZOOM Maxle 12mm x 142mm rear thru axle is simple, light, strong and excellent value. At only 39g – drop some weight from your wheels.
Thread pitch 1.75mm. Length from inner washer 172.5mm.
2-year warranty.
Specifications / Features
Key technical measurements: 
Thread pitch: 1.75mm
Length from inner washer to end of thru axle: 172.5mm
Thread area length: 20mm
Washer width: 1.5mm
Inner axle maximum width: 12mm
Product Code: T8
Anodised black / 7075 Aluminium
Frame compatibility list (not exhaustive)
BMC FourStroke FS02 (2014)
Ibis Mojo SL-R (2013)
Ibis Mojo HDR (2014)
Ibis Ripley (2013)
KTM Myroon Prestige, Prime, Master, Elite 29 (2015)
KTM Myroon Prestige, Prime, Master, Elite 27 (2015)
KTM Scarp Prestige, Prime Master, Elite 29 (2015)
KTM Scarp Prestige, Prime Master, Elite 27 (2015)
Niner RIP9 (2013-2015)
Niner SIR9 (2015-2016)
Trek Procaliber 9.9 SL, 9.8 SL, 9.7 SL (2016)
Trek Superfly 9.9 SL (2013-2015)
Trek Superfly 9.8 (2013-2015)
Trek Superfly 9.7 (2015)
Trek Superfly 9.6 (2014-2015) => after "closed convert" change
Wilier 101XN (2014)
Set-up / Tips
The 1.5mm washer helps protect the paint on your frame/for drop out - its use is optional, removing it gives 1.5mm extra length to the axle.
Uses 6mm hex allen key for smooth secure opening/closing (Max recommended torque 10NM).
Shipping & VAT
SHIPPING
Items are posted from the UK.
Standard UK DELIVERY in is FREE.
International postage cost is quite low as our products are light, and can be seen at the checkout.
Some international destinations may have an additional tracking charge.
Feel free to get in contact regarding shipping / customs requests.
VAT
The price shown for customers outside the UK does not include the 20% UK sales tax - bonus!
PAYMENT
You can securely pay via Paypal, Amazon Pay  or standard Credit/Debit card options.
We take payment in £GBP but have added a currency conversion app on the product page for 6 other major currencies for a conversion reference.
We can accept payment in Euro, USD & Aus $ via a Paypal invoice, and Bank transfer in Euro & £GBP, however you will have to contact us on info@mtzoom.com.
If you have any payment problems/questions please get in contact.