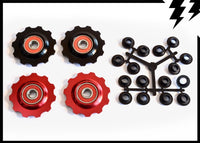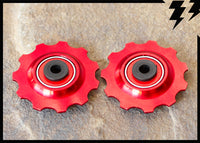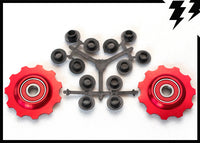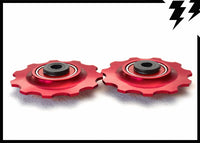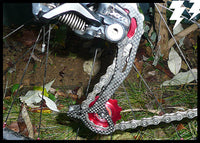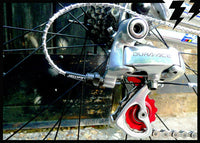 "BULLET PROOF" CERAMIC BEARING JOCKEY WHEELS 11T
Description
Features
Set-up Tips
Shipping & VAT
Description
MT ZOOM "bullet proof" jockey wheels use ceramic bearings, so last longer and are smoother than steel. The anodising holds up excellently and there's plenty of metal to take on the most abrasive sand, mud and chain shavings.  Particularly good for winter and riding in wet and muddy/grassy conditions.  The ceramic bearings can be serviced/cleaned to prolong life & performance.
Fits most derailleurs.  If your current jockey wheel has a hole in the middle and has 11 teeth these should work. Works with 8, 9, 10, 11 etc. speed systems. Sold singularly or in pairs. 
Currently available in red and black. 
Specifications / Features
At 14g each they weigh a little more than your average plastic/alloy jockey wheels but are more durable as a result.
Set-up / Tips
Sold with a selection of shims. Pick the washer/shim that best fits your derailleur/jockey wheel bolts. Pick the width of the shim which gives enough clearance but not wide enough to get jammed between the cage & jockey wheel.Use the narrowest shims for 11 speed.
Bearings can be serviced/cleaned to prolong life & performance.  1. Remove the bearing shims & covers with a pin. 2. Blast with WD40 etc. to clean. 3. Relube / Regrease. 4. Press bearing covers back in fully.
Shipping & VAT
SHIPPING
Items are posted from the UK.
Standard UK DELIVERY in is FREE.
International postage cost is quite low as our products are light, and can be seen at the checkout.
Some international destinations may have an additional tracking charge.
Feel free to get in contact regarding shipping / customs requests.
VAT
The price shown for customers outside the UK does not include the 20% UK sales tax - bonus!
PAYMENT
You can securely pay via Paypal, Amazon Pay  or standard Credit/Debit card options.
We take payment in £GBP but have added a currency conversion app on the product page for 6 other major currencies for a conversion reference.
We can accept payment in Euro, USD & Aus $ via a Paypal invoice, and Bank transfer in Euro & £GBP, however you will have to contact us on info@mtzoom.com.
If you have any payment problems/questions please get in contact.